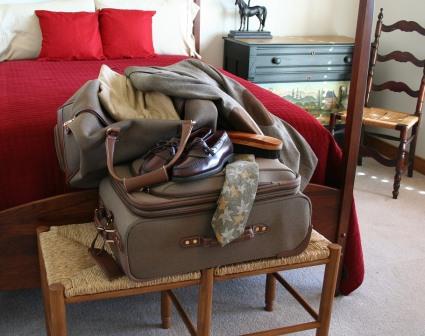 When it comes to a business trip, we don't always get a lot of advance notice.  Sometimes, we may not even know about this business trip until the day before.
With time constraint, it's easy to forget to bring some of the essential items for a successful business trip.
What are the essential items for such a short business trip?
It should be easy: Just open a suitcase and put in some business outfits and toiletries.  Well, that may work for a leisure trip.  In order to guarantee your business trip to go smoothly, you just forgot 80% of the essential items.
Here is the Essential Packing List for you to quickly get ready for the business trip:
(1) Passport, Traveling Insurance Certificate, Hard Copy of your Travel Plans, and Local Currency
For sure, these are essential items to bring for any trip.  You may think it's unnecessary to bring hard copies of your travel plans.  But what if your phone or your laptop runs out of battery at the airport?  Relying on power cord charger or portable power bank may be possible, but this will still make you feel a bit upset on the first day of your business trip.  Keep up your good mood is an important part of nailing a business meeting.
Besides that, if you are on any medication or have any allergy, please also write down the details and put it together with your traveling insurance certificate.  If you feel sick and lose consciously, this can help the medical personnel to diagnose your problem.
Try to place all the documents in a plastic folder to prevent water spills.
Even though nowadays, we can pay by credit card for many things, there are still many places that take cash only.  It would be bad if you cannot make your business meeting if you did not have enough cash to pay cab fare.
(2) Business Cards
This may sound obvious, but it's very crucial.  Bring at least one extra pack of business cards.  You never know who else you may meet along the way and during the stay.  Don't lose a perfect opportunity to connect with other business partners.  Also, especially if you are traveling overseas where there may be language barriers, you can simply give people your business card instead of trying to spell out your name and contact information.
(3) Breath Mints
This may sound stupid, but the first impression is always important.  Don't pass along a strong odor when greeting your client or meeting a new potential partner.  Sometimes, you never know where you may suddenly bump into these VIPs.
(4) Laptop and a USB Flash Drive
It doesn't have to be a laptop.  You can use an Android tablet or iPad or Windows tablet.  But it has to be able to work on your business documents.  Don't rely on the business center or a public computer in the hotel.  It's not just for privacy reasons, but you also don't know what software these computers can use.  The last thing you want is encountering difficulty in showcasing your well-prepared documents and presentations.  Keep an extra copy of the business documents in the USB flash drive.  Just in case your laptop breaks down, you still have a copy of the documents to work with.
(5) 2 Pens
Always bring 1 pen with you.  But it's good to keep a second pen with you as a backup.  It allows you to share contact information with potential clients.  If you are in a foreign country, you may need to bring a notepad as well.  This may help in communicating with the locals.  Moreover, sometimes, you may even want to quickly drop down some inspiring ideas.  Don't let these brilliant inspirations get lost in your thoughts.
(6) Travel Adapter
I recommend getting the universal travel adapter instead of a different one for each specific group of countries.  Whenever you are traveling overseas, always remember to bring at least one travel adapter.
(7) Case of Cords
Personally, I always have 2 bags of cords at home: (1) one big bag that contains all the different cords and chargers from all electronics as well as the power bars, and (2) one small bag that is used to store the cords and chargers needed for the trip only.  This makes it easier to remember where all my cords and chargers locate, and also it feels more organized when I am packing for a trip.  Make sure you look at all the electronics you are bringing, including the charging cord for the portable power bank.  When traveling, I also like to bring one power bar that can plug at least 5 devices.  You just never know how many spare outlets the hotel room may have.
(8) Portable Power Banks
It's hard to predict how extensive you may need to use your mobile phone throughout your trip.  Maybe you use the Google Map to find this unknown location.  Maybe you need to use it to research some information.  Whenever the phone's screen turns on, it uses up the battery power at least 30-50% faster.  Portable power bank (or external battery) allows you to replenish your phone's hunger.  Don't forget to bring an Android cord to recharge your external battery.
(9) An Envelope (to Keep your Receipts)
It may not sound important.  But when you go on a business trip, you often have to keep the receipts for reimbursements.   Sometimes, you may even work to keep the receipts for income tax reduction, claiming as work expenses.  But when you have a pile of receipts, it's easy to make them wrinkles or have ink-faded receipts.  This envelope can help you solve all these potential problems.  I also have a habit of writing down the expense category on the back of each receipt.
(10) A Wrinkle-Free Jacket
Besides appropriate work clothes, you should bring a wrinkle-free jacket too.  Even if you are traveling to a country with warm weather, you may still need a jacket when sitting in the air-conditioning room.  Also, during the flight, it can get a bit cold.  Besides that, if your work attire is not business clothes, it may be a good idea to bring a nice pant and a nice jacket as well.  You just never know if there may be a special gala that you are invited to attend.
(11) A Good In-Flight Kit
It's important to stay comfortable and well-rested during the flight.  Especially if you are not going to get a seat in the first class or the business class, a good in-flight kit can be very useful.  There are some commercial in-flight kits available in the market, but you can also easily make your own in-flight kit.  Just get a bag from a nearby dollar store.  Socks, neck pillow, earplugs or noise-cancelling headphones, and eye mask are good to have.  I also like to bring lip balm, hand balm, simple snacks and an empty water bottle.  For your quick guideline, this article talks about how to build a good in-flight kit.
(12) Entertainments
Personally, I always like to bring something for entertainment to all my business trips.  An iPod full of music and a book with short articles are my favorite.  But it can also be an audiobook, an e-book, magazine or a novel.  I find this can help to get me ready to sleep, especially when I am suffering from jet lag.
Just a side note, it may be better if you bring a carry-on baggage instead of check in your luggage.  This can avoid the chance of losing your luggage and thus, hamper the success of your business meeting.  For your quick reference, click here for a list of the size limitation of the major airlines.
Have a wonderful business trip!
With love,
Cecilia Or
Always Remember W.H.Y.
Be Well, Be Happy, Be You