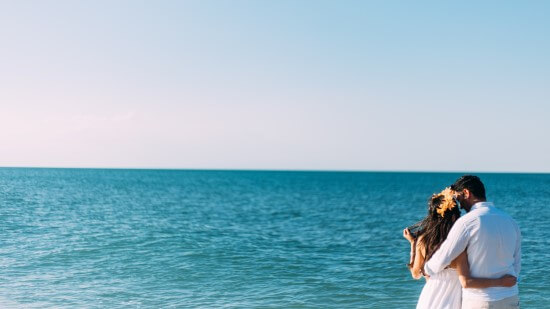 Last year, I just had my wedding on a boat, and I would like to share some tips about planning an out-to-sea wedding.
1. To decide on a sea wedding:
For some couples, they would have chosen by minute-one.
"Where do we want our wedding?" "On a 200-ft yacht, with 160 people, sunset and city skyline in the backdrop when we say our vows, with all the servers in sailor uniforms."
But for some of us, we are not so sure.  So, why choose a boat?
(i) Outdoor location:
Couples want their weddings to be the most special. Instead of the regular banquet hall ideas, many would choose to have their wedding in an outdoor location.  But outdoor location can be quite tricky because many locations are public places.  A popular location where you can have close to full control is on a boat.  Many cities by the water will have a selection of boat wedding options.
(ii) It's just simply beautiful:
The most beautiful picture of any city by the sea is likely the photo shot from the water.  Imagine having that picture in the background, then now add you and your spouse in your wedding attire and the boat in the foreground.  Wow, wow, WOW!
(iii) Themes make sense:
If you are someone who likes to have a themed wedding, imagine a banquet hall wedding with all the designs of your planned theme. Sure, the inside looks great.  But as soon as you or a guest steps out, maybe to go to the bathroom, all the wonder is gone.  Now imagine your dream-themed wedding on the boat.  Everything is yours to decorate.  It's just so much better.  (Check out some fun wedding ideas)
(iv) Stop unwanted guests/wedding crashers:
Assume your plan is not to have someone else steal you away just when you are ready to say your vows, then a boat wedding really helps cut down on this surprise factor. I'll talk about how to choose the sea ride that suits your dream shortly.  At my boat wedding, there was a hostess standing at the gangway to ensure only people on my guest lists were allowed aboard.  From then on, you set sail, and no outsiders would disturb the proceedings.  Well, assume no unwanted ex on a jet ski with a cheesy "I love you" sign.
2. To decide what to take out to the sea:
Do you want a small private yacht? Or a sternwheel steam tugboat like in the movie "Maverick"?  Part of this decision will depend on budget and availability in your city.  Still, I like to start with the dream and work my way back to reality.
(i) Private yacht:
Assume one is not a billionaire or somehow great friends with one; this is likely a much cozier and smaller event.  It does have its advantage if you only want to keep the guest list short.  You'll have much more flexibility in what you can do on board.  Imagine this: after you say your vows in the ceremony, hop on the speedboat in tow and then zoom away with a "Just Married" sign tied at the back.  But I wouldn't recommend tying tin cans to the back of the boat…Hahaha
(ii) Wedding cruise yacht:
In most seaside cities, you can rent a boat for your wedding.  This is a more standard choice.  You get the mix of beautiful outdoor deck ceremony with a comfortable below deck reception/banquet.  Yachts are usually wider than the other choices, giving you more space to do various activities, such as an elaborate wedding dance.  Maybe you can even an epic wedding dance party.
(iii) Old style boat/ship:
I live in Toronto, Canada and I hosted my wedding on a tall ship named Empire Sandy.  Choosing a boat with history and a more vintage look makes the wedding much more memorable.  For me, that was an obvious choice.  There were other perks too: For example, we sealed our vows not only with a kiss but also a cannon fire!
(iv) Cruise line weddings:
I'm talking about those hotel-in-the-sea size cruises.  Some actually do weddings.  This is not likely for a large guest list because tickets are priced per head-count.  However, this is great for a wedding-honeymoon combo for couples who just want to celebrate with family and a couple of friends.  The combination of cruise getaway tour with exchanging your vows onboard at sea.  Priceless!
3. Planning your the-day-of schedule:
(i) Date and timing:
Weather will be a huge concern, as for any outdoor wedding. Of course, one cannot predict the weather, because you usually book your wedding venue months in advance.  But maybe you can still pick a relative temperature range by picking a date out of the warmer months during the year.  For my case when I was booking the venue, one thing I considered from very early on was the sunset time and how to work with it.  We scheduled a photo session during the sunset and asked the captain in advance to arrange the tall ship in the right place for a sunset-skyline-CN-tower backdrop.
(ii) When you can't predict the weather, have a backup plan:
Work with the elements. If you chose the outdoorsy wedding, then work with the only unexpected factor.  Make sure to have 2 detailed scheduled plans.  Have a plan for the good weather, and also, have one for the bad weather.  As long as there are no surprises, it's always going to be your dream wedding.  If you think that bad weather would ruin everything despite your efforts, then maybe an outdoor wedding is not for you.
(iii) Decorate the boat:
I really enjoyed working with the existing décor of the boat itself.  Add your personal touch.  We had a turquoise theme, so we added turquoise sashes plus starfishes and seashells over the existing metallic arch, wooden benches, tables, sail ropes and life buoys.  Maybe the cruise line would be a little difficult to personalize, you can do whatever you want to decorate, but make sure: safety first.
(iv) Triple check the audio:
Background noise is unavoidable.  It's beautiful but LOUD!  I'm talking about the synchronous sounds of waves.  Very romantic…yes.  But don't let that ruin your ceremony video because your vows can't be heard.  Therefore, triple check to make sure the audio works well.
(v) Fun on the boat:
There are many things that you can do on the boat that is just more fun. Just imagine… Dance party with unlimited decibels since you are miles away from anyone else.  Cutting the wedding cake over the splashes of the water.  Having a buffet reception on a beautifully decorated deck.  Here's my favorite: leading the female guests overboard with the bouquet throw… just kidding.
Wish you could also find your dream wedding theme for your important day.
With love,
Cecilia Or
Always Remember W.H.Y.
Be Well, Be Happy, Be You